Take the easy way out!
Looking for a place to groom your pet? Our U Groom service gives you full access to our suite of grooming equipment. From our raised bathtubs and professional pet shampoos, to our comfortable enclosures, dryers, and grooming tables, we offer you the very best.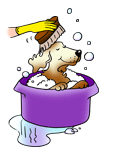 Bring your own combs and trimming tools, or help yourself to ours. At Beautiful Pets, we're here to make your self-serve grooming experience as convenient as possible. And because you're working with the very very best, you can rest assured your pet's grooming experience will be a safe and happy one!
Whether you are the kind of person who prefers to handle your own grooming on a regular basis, or if you are simply looking for a quality touch-up between professional pet groomings, why not take the easy way out. Stop in and see us today!